Courtesy Visit of the Diplomatic Heads of EU and India to Nigeria
25 January, 2023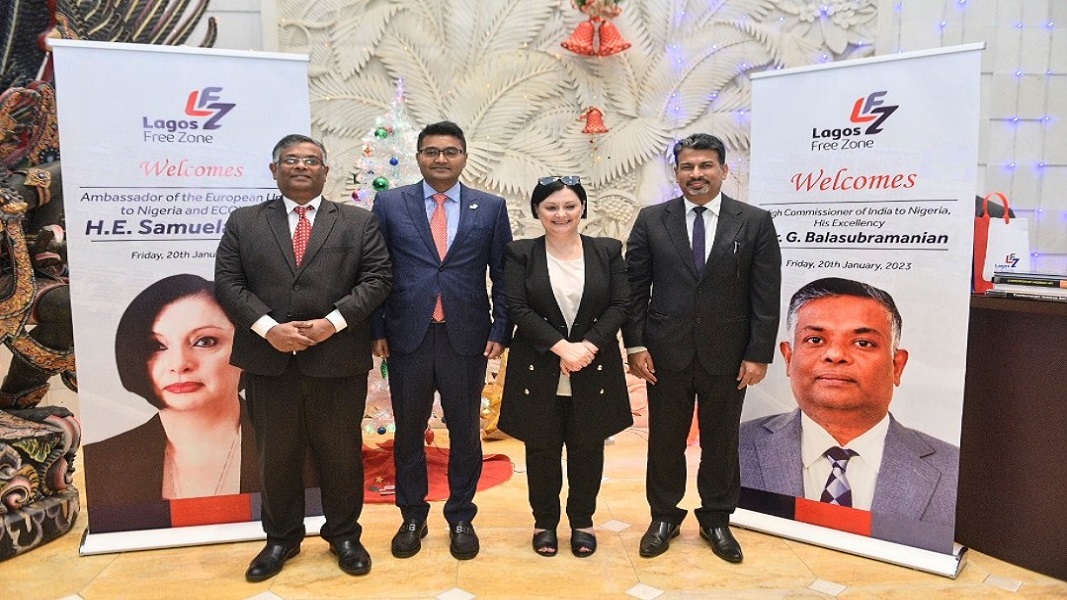 The Indian High Commissioner to Nigeria, Shri G. Balasubramanian, and the European Union Ambassador to Nigeria and the ECOWAS, Ms. Samuela Isopi, have pledged their support to drive Foreign Direct Investment to the Lagos Free Zone (LFZ). They both made this know during an official visit to Lagos Free Zone in Lagos on Friday, 20 January, 2023.
His Excellency, Shri G. Balasubramanian, expressed satisfaction with the quality of infrastructure and investments in the Zone. Hestated that the Zone has the potential to change Nigeria's economic landscape by attracting more foreign direct investments. He pledged to share the message of the unique opportunities available in the Zone with Indian companies in Nigeria and abroad.
"The Zone offers investors a unique opportunity, especially in tax benefits and exemptions. Nigeria is the giant of Africa, and there is a great opportunity to be explored within the Zone. Lekki Port, on its own, is a fantastic facility that will change how business is done in Nigeria. Of course, it will attract a large number of businesses and a large number of containers to be handled", he said.
Also, during the visit, European Union Ambassador to Nigeria and the ECOWAS, Ms. Samuela Isopi, commendedTolaram – the promoters of Lagos Free Zone, for the incredible achievements recorded so far. She explained that integrating Lekki Port with the Zoneremains the biggest game-changer for the Nigerian economy and the West African region. According to her, LFZ is an economic hub that would significantly help advance regional integration by promoting bilateral trade between Nigeria and other countries within the ECOWAS sub-region.
"We are impressed with the vision and concept we have seen here. We are glad that foreign investors can now find a one-stop shop where all they need in the processing, energy autonomy, and skill sets are available. Not only that, they are now open to some incentives, such as tax exemptions, that would enable them to succeed. In addition, we are glad that we now have Lekki Port which would help decongest existing ports and promote trade among ECOWAS countries. With this, we are highly optimistic that the West Africa region will witness desired development", she said.
In his welcome remarks during the visit, the Chief Executive Officer of Lagos Free Zone, Dinesh Rathi, described the Zone as the best investment destination in Nigeriafor foreign direct investment. LFZ's self-sustainable business ecosystem includes warehouses, standard factories, a logistics hub, a fire station, broadband network connectivity, residential developments, a medical facility, solid waste management, and an independent natural gas based power source.
Rathi explained that the Zone, promoted by Singapore-based Tolaram, is the first privately owned special economic Zone in Nigeria, covering an area of 850 hectares of land. He noted that LFZ is unique in its focus on delivering ease of doing business, giving businesses in the Zone a competitive edge.
"Lagos Free Zone offers many competitive advantages and incentives for investors interested in locating their businesses in the Zone; these include single-window clearance for regulators, enabling infrastructure, the opportunity to live-work-play, and access to global markets. Another symbolic advantage is that LFZ is the only Zone integrated with a deep sea port."he said.
About Lagos Free Zone
Promoted by Singapore-based Tolaram, Lagos Free Zone is Nigeria's first private free trade Zone. Centrally located in Lagos State, the commercial centre of West Africa's largest economy, the Zone covers an area of 850 hectares.
It is fully equipped with world-class infrastructure and a single clearance window for ease of doing business. Lagos Free Zone is Nigeria's only free Zone integrated with the Lekki deep sea port, allowing access to regional and international markets. With a focus on the ease of doing business, Lagos Free Zone is at the forefront of serving your business in Nigeria.