Albesta Academy wins 2022 Tolaram science challenge
14 July, 2022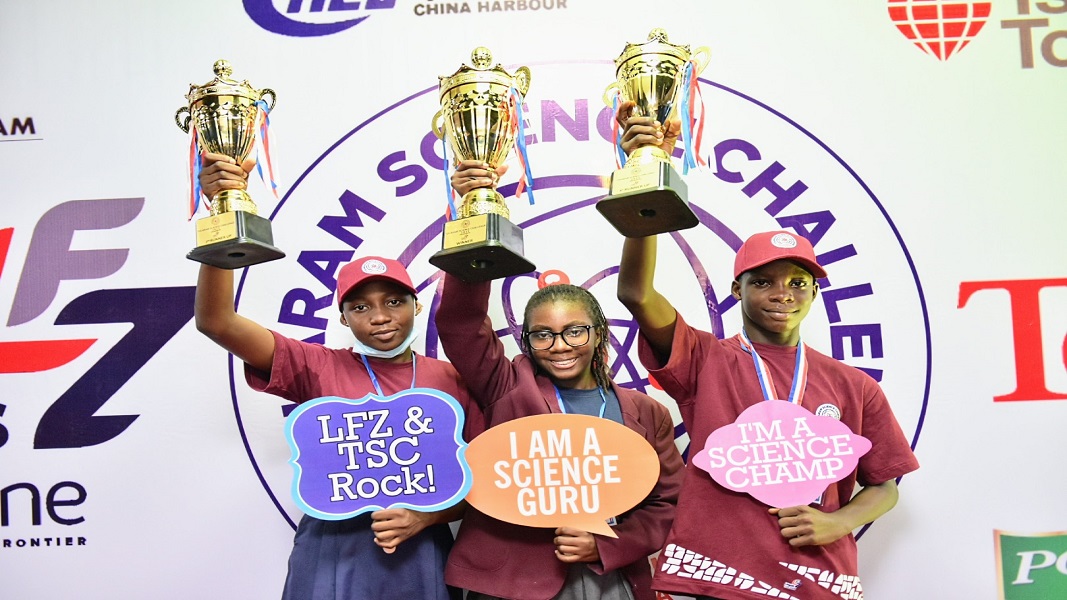 Other companies in the Group, including Dufil Prima Foods Limited, producers of Indomie Instant Noodles, TG Arla – the producers of Dano Milk and Kellogg Tolaram, also supported the competition with various products. Other institutional sponsors of the event included Stanbic IBTC, Leadway Assurance and CHEC.
A total of 16 secondary schools participated in this year's edition of the annual competition, with each school represented by Six (6) students. The students were examined in five core subjects: Physics, Chemistry, Biology, Mathematics and General Knowledge.
At the Awards ceremony, Sixteen students were given Unified Tertiary Matriculation Examination (UTME) scholarship award for their outstanding performance in the TSC, while the top 3 students in the competition were rewarded with cash prizes and certificates.
Speaking at the competition's grand finale, the Chief Relationship Officer, Lekki Port, Mrs. Adesuwa Ladoja, thanked Lagos Free Zone and Tolaram for continuing the initiative. She shared that the quality of the competition had improved significantly given how the competing schools tried to outshine one another with their brilliance.
Also speaking, the representative of the Commissioner for Commerce, Industry and Cooperatives, Lagos State, Mr. Okesanya Abiodun appreciated the organizer for investing in the educational sector and being a responsible corporate citizen. He explained that its invaluable contribution to the Ibeju Lekki area is indeed timely and would lead to significant growth and development of science-based education in the communities, thereby positioning the students to harness the enormous opportunities embedded in the 21st century age. He, who equally commended the doggedness, commitment and exceptional performance of the students for striving to be the best in the competition, urged them to remain focused to become a reference point not only in the four science subjects but in other areas.
"Your participation in the competition has exposed you to the required knowledge to excel in these four science subjects and created an avenue to interact with your fellow students from private and public schools. Your presence here tells a story of undeniable steadfastness, intelligence, speed and accuracy throughout this challenge as evidenced by your performance", he said.
In his remarks, the Chief Sustainability Officer, Lagos Free Zone, Mr Vishal Shah, stated that the Tolaram Science Challenge had become a veritable platform for students to learn, noting that regardless of the competition's outcome, every student and school is a winner.
"Tolaram Science Challenge has no place and provision for losers. Therefore, you either win, or you learn. Our students have been able to unlearn, learn and relearn. The commitment each one of you has shown throughout this competition is unbelievable. There is no doubt that this commitment will take you on a new height in life and the nearest future," Shah said.
He stated further that LFZ is positioned to raise and create champions for the future of Nigeria, noting that initiatives such as this help to serve as a guide towards a bright future.
In his remarks, Onilekki of Lekki, His Royal Majesty, Olumuyiwa Ogunbekun, applauded the role of Lagos Free Zone in improving the state of education in the host communities and noted that the competition had done a lot to enhance healthy competition among secondary school students. Ogunbekun advised the students to choose the path of hard work if they hope to become great in life.
"All of you are winners. I want to congratulate everyone. The success we have recorded today is not without the contribution of LFZ. Thanks to them for giving back to the community. May your light never go dim. As for the students, you have not only made yourself proud but also your parents and the schools you represent. There is no shortcut to success in life", he said.
Shortly after receiving the trophy, the team captain, Albesta Academy, Miss Osahon Irene, stated that she was delighted to lead the team to success at this year's competition, noting that this would motivate her to reach for greater heights in her academic pursuits.
L-R: : Onilekki of Lekki, His Royal Majesty, Olumuyiwa Ogunbekun; Team Captain, Albesta Academy, Ibeju-Lekki (Winner), Osahon Irene; Chief Sustainability Officer, Lagos Free Zone(LFZ), Vishal Shah; Chief Commercial Officer, Ministry of Commerce, Industry and Cooperatives, Lagos State, Okesanya Abiodun and Chief Relationship Officer, Lekki Port, Adesuwa Ladoja during the prize presentation to Albesta Academy, the winner of the 6th edition of Tolaram Science Challenge organized by Lagos Free Zone last week Friday.